Feb 28, 2023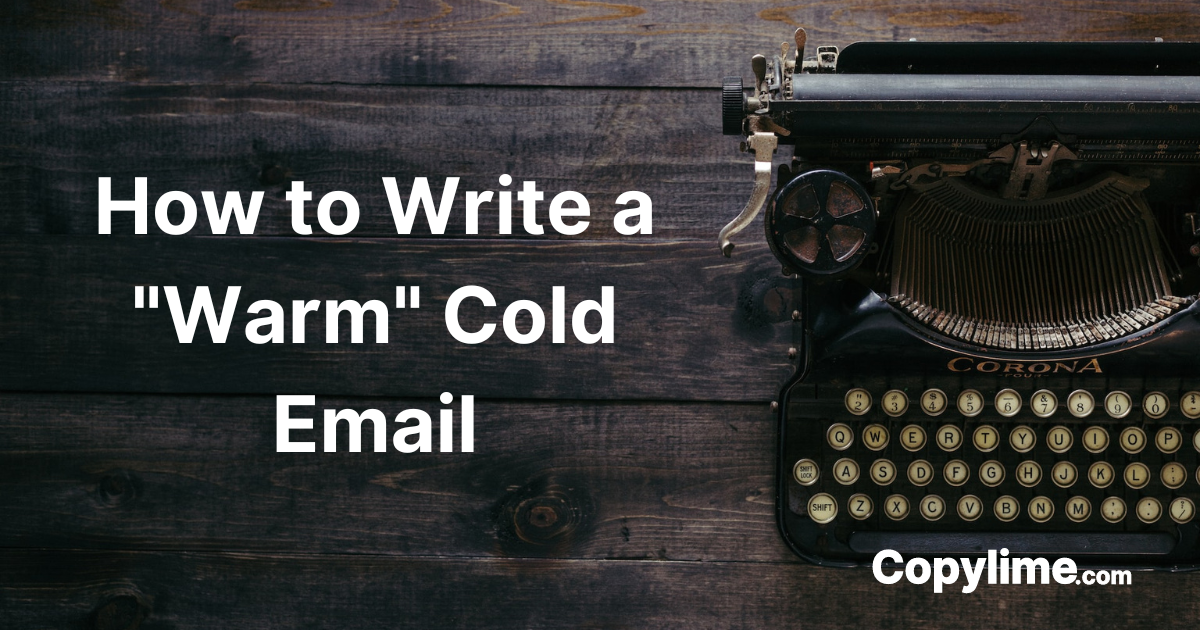 Writing a "warm" cold email requires an understanding of the reader and providing value to them. Many times, cold emails are seen as spam and can be ignored or worse, have a negative effect on the brand. To successfully write an effective cold email, one must show the reader that their message is important, resonates with them and is tailored to their needs.
Writing a "warm" cold email requires an understanding of the basics of getting a recipient's attention and creating a connection between the sender and the recipient. This includes the use of strong subject lines, a personal signature, and abiding by email etiquette. In addition, concretely demonstrating value and professionalism can go a long way. It's also important to understand the context of the email as it may be the first interaction between the two parties. A follow-up plan should also be kept in mind, as it's important to show the recipient that the sender is engaged and interested in continuing the conversation.
Try the Cold Email tool by Copylime powered by smart AI that will get the job done for you in seconds.
Here are a few tips we will take a look at in this article:
Know Your Recipient
Craft an Engaging Subject Line
Make a Personal Connection
Write a Compelling Pitch
Follow Up Effectively
Let's dive in.
1. Know Your Recipient
Before you even begin writing a cold email, it's important to know your recipient and what you'd like to get out of the communication. Taking the time to research and familiarize yourself with who you're writing to can help you craft a more personalized email that better resonates with the recipient, and increase your chances of sparking a meaningful conversation.
Starting from the very beginning, it's essential to think about why you're writing to the recipient. Understanding the purpose of your email and the subject matter before you jump into contact can help you prioritize what information to include and what things to leave out.
Knowing your recipient comes down to more than simply understanding who the person is. It means digging a bit deeper to learn a bit about their interests, passions and motivations. Are they a big fan of outdoor activities? Are they a podcast listener? Is there any common ground that you can use to craft a stronger connection? Putting in the effort to be informed can help differentiate your email and make it stand out in the recipient's inbox.
Overall, taking the time to understand the person you're writing to will not only make a good first impression, it can help you craft a more personalized message that displays a genuine interest in engaging with them. This can ultimately help jumpstart the conversation and can even help you build a more meaningful relationship with them.
2. Craft an Engaging Subject Line
Nailing your subject line is imperative to get your recipient intrigued enough to open your email and read it all the way through. When crafting an engaging subject line, it's essential to make sure it reflects the message you want to send, as well as the energy you want the reader to feel. Here are a few tips for constructing an impactful subject line.
First, make sure it's engaging and eye-catching. While this may seem like a simple task, there are different words and phrases that can help to capture your recipient's attention. Think about keywords such as "free offer", "collaboration opportunity", or "discount", or give the subject line an emotional tilt such as "It's the perfect time to..." or "Make their day with this…"
Next, keep your subject line direct and to-the-point. Don't try to be too clever or use unnecessary hashtags or excessive punctuation. This may confuse your recipient and have the opposite of the intended effect.
Finally, think about the value in your subject line. You want to make sure what you're offering or asking for is clear and concise. Don't use the subject line to be coy; be direct about what you want and what you can do for the recipient.
Overall, crafting an engaging subject line should be weighed just as heavily as any other part of your cold email. Be sure to put thought into how you communicate your message and how you want the recipient to feel when opening your email.
3. Make a Personal Connection
It's undeniable that creating a warm personal connection with your reader can make or break a cold email. Everyone wants to feel seen and appreciated, and taking the time to establish a genuine connection is key. When crafting your email, ask yourself, "What human-to-human connection can I make here?"
Now is the time to get creative! Are there any hobbies or interests you share with the reader? What about an intriguing conversation starter? Have you connected on social media? If not, that may be a great avenue for furthering the relationship. Taking the time to show how you relate to the reader will create an instant feeling of trust and help you stand out against the competition.
Finally, leverage tools that can provide a more personal touch to your email, like including a GIF or a link to your portfolio. These little details will go a long way towards presenting yourself as a unique, authentic individual. Remember the goal here is to make the reader think, "This person cares about me," so pour your heart into your message.
4. Write a Compelling Pitch
Writing a compelling pitch is one of the most important parts of writing a "warm" cold email. The Cold Email tool by Copylime can help you get your first draft ready. In crafting a pitch that is both interesting and informative, you want to use descriptive language that energizes and captures the reader's attention. Being able to write in a conversational tone that resonates with people and conveys your message can help you create the connection and open up a potential dialogue.
Your pitch should begin by introducing yourself and your organization and why the recipient should be interested in what you're offering. You'll also want to include any points of benefit to the person you are emailing. Outline any unique offers or valuable information that you can provide that may solve a problem. Showcase your expertise and experience, as well as any useful resources.
When crafting your pitch, try to be creative and tell a story. Incorporating vivid language, metaphors, and allusions can be engaging, as well as offering up an emotionally resonant message. Show how the solution you are offering actually solves the recipient's problem with the puzzle they're trying to solve. Demonstrate how it is easy, simple and effortless to work with you.
Having a compelling pitch is essential in order to ensure that your message gets across and that the recipient can take what you're offering. By combining great market research and creative storytelling, you'll be able to craft a warm cold email that resonates with the reader and is sure to help break the ice.
5. Follow Up Effectively
Once you've sent your cold email to the intended recipient, the next step is to make sure you follow up effectively. There are a few key things to consider when trying to ensure that your follow-up is successful.
Firstly, it's important to remember to be patient and persistent when sending and receiving any forms of communication. If after your first email, you don't hear anything back, don't be afraid to gently remind your potential contact about your message via a polite follow-up. You can also opt to use a call-to-action statement that requests a brief response from your recipient, such as a request for 15 minutes of their time over a call.
If you're waiting for a reply, try to wait at least a few days before re-sending the same email. This gives enough time for your email to be read and considered by your recipient, and also allows them to process the information if they've become busy. Scheduling an automatic reminder email can also be an excellent way to ensure that you're able to follow up with your potential contact regularly.
It is also important to remember to be mindful of your tone in any follow-up emails. Being overly persistent can come across as too pushy and can cause your contact to become frustrated, so make sure to stay friendly and personable throughout your email. A good way to maintain morale is by highlighting the benefits of responding with transparency and enthusiasm.
Finally, stay open to other forms of communication such as messaging apps or video calls. These methods are highly beneficial for providing clarity for both parties, so make sure to remain flexible when it comes to finding the most suitable method of communication.
So, to wrap up...
Use smart AI tools to your advantage - the Cold Email tool by Copylime powered by smart AI can put out a really well written cold email for you in seconds. Add your own personal touch to it and remember to give your reader an incentive to respond and to not be too pushy, as this will likely cause your message to be ignored. Do your best to make it inviting and friendly, as this will make the recipient feel valued and more likely to respond. Ultimately, with a bit of practice and the tips discussed in this article, you should be able to craft an effective cold email that leads to a positive outcome.